Monday, 23 June 2008
Reporting from the corner of Westfield and Westfield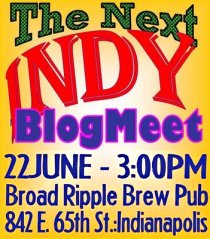 Indy blog meet: Good time was had by all, will hopefully have more to follow, as soon as I wake up.
[1]
Meanwhile, I'm updating the "Bloggers I've Met" section on the sidebar. A great crowd.
Reports have already been posted by:
-----
[1]
I'm presently attempting to integrate a New Cat into the O.G. household. The New Cat is a real love who should fit in just fine, but so far the Current Cat is refusing to give her a chance... won't even come out from under the bed. This has led to Much Growling and consequential Loss of Sleep.
[2]
...who mentions a certain "Riparian intersection" in a footnote. Yep, it's true: The corner of Westfield Boulevard and Westfield Boulevard. (Almost like
Greenwich Village
, where West 4
th
Street intersects West 12
th
Street.) There's a picture below the break...
Iconic Broad Ripple intersection: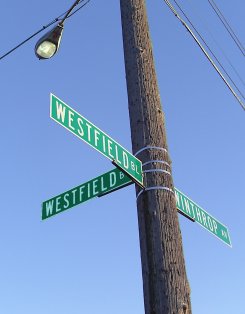 Posted by: Old Grouch in Meta at 17:53:20 GMT | Comments (3) | Add Comment
Post contains 163 words, total size 2 kb.
1
It was good event.... enjoyed it tremendously.
I missed out on talking to you, and almost everyone else too....
Just too many conversations!
I'll certainly do my best to be at the next one too....
Regards,
Carteach0
Posted by: Carteach0 at 06/24/08 00:09:05 (Pj1t3)
2
I do my grocery shopping in OKC in a store located at a five-way intersection: Meridian Avenue, 23rd Street, and 19th Street. (Access from 19th, however, is somewhat limited, mostly to keep the intersection relatively simple.)
Posted by: CGHill at 06/25/08 16:29:13 (fE35D)
Comments are disabled. Post is locked.
69kb generated in CPU 0.0149, elapsed 0.3623 seconds.
53 queries taking 0.3506 seconds, 210 records returned.
Powered by Minx 1.1.6c-pink.