Tuesday, 12 May 2009
"Slight" change
The Wall Street Journal:
The Obama administration said Monday that it expected even wider deficits this year and next than previously forecast, and Congress could undermine the administration's push to narrow the gap by slashing the revenue generated by the president's plan to curb greenhouse gases.

On Monday,

White House budget director Peter Orszag revised the fiscal 2009 deficit upward by $89 billion to $1.84 trillion, 12.9% of the economy.

That is a level not seen since 1945. Next year's deficit forecast was raised $87 billion, to $1.26 trillion.
Looks like I need to modify that chart a little bit...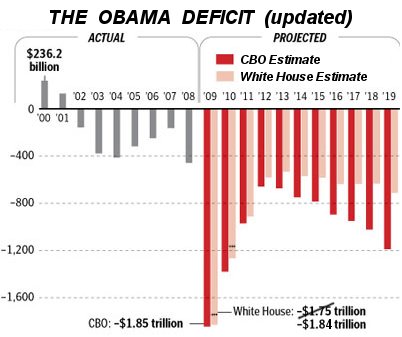 Posted by: Old Grouch in In Passing at 00:06:30 GMT | Comments (2) | Add Comment
Post contains 137 words, total size 2 kb.
1
Old Grouch,
So the WH admits that 2009 and 2010 will have larger deficits but still holds to the idea that 2011 will be as projected?
I think you buried the lede.
Posted by: Nom de Blog at 05/13/09 22:30:20 (fnU+z)
2
Well not exactly. They just haven't made a "revised prediction" for 2011-
yet.
I think that, at the moment, they're whistling past the graveyard,
hoping
that conditions will
change
enough to get out of trouble.
Or they anticipate that, by 2011, everyone will have forgotten.
Or they plan to have taken total control by 2011, so it won't matter.
Posted by: Old Grouch at 05/13/09 23:25:53 (B9AAG)
Comments are disabled. Post is locked.
67kb generated in CPU 0.06, elapsed 0.2422 seconds.
53 queries taking 0.2098 seconds, 210 records returned.
Powered by Minx 1.1.6c-pink.