Thursday, 25 February 2010

SNOWing for a record?
For us in Indy, the prediction is an inch or so overnight, with more to the north. But it looks like the east may get slammed- again.
Predicted snowfall map for tonight and tomorrow:
[1]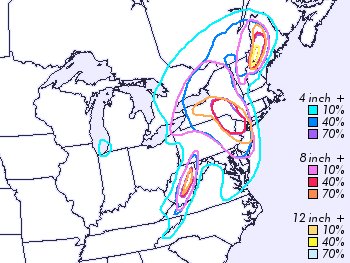 AccuWeather's
Alex Sosnowski
(HT:
Bill Quick
):
The same storm that brought a gentle snowfall across Texas on Tuesday will reach the Northeast in the form of an atmospheric monster with damaging winds, blinding snow, torrential rain, huge waves and flooding...



Wind


Wind gusts can reach 70 mph in some areas, just shy of hurricane force. Many locations in the mid-Atlantic and New England will endure gusts topping 50 mph at some point Thursday to Friday...



Tides


The powerful winds will lead to coastal flooding in New England, while causing disruptive blowout tides and very low water levels in some seaports the mid-Atlantic from New Jersey to the Carolinas.



Snowfall


Snowfall from the storm will accumulate 1 to 2 feet from western Maine to northern Vermont and over much of the Mohawk and Hudson valleys in New York state as well as the Catskills and Poconos. Albany, Binghamton, Rochester and Scranton fall within this zone.

A broad area of 6- to 12-inch snowfall will fall from northern New Brunswick to central New Jersey, much of Pennsylvania, northeastern Ohio and southern Ontario. New York City, Buffalo, Montreal, Ottawa, Toronto and part of the Philadelphia area lie in this area.
They're reporting 10-20" already on the ground in eastern New York State. The National Weather Service expects the second low to pull in warmer air up into the Hudson Valley, which would make Thursday's precipitation in that area (around Albany) fall mostly as rain. But for eastern Pennsylvania they're still talking snow: 6-14 inches worth.
Thursday night and Friday (note these are
additional
accumulations):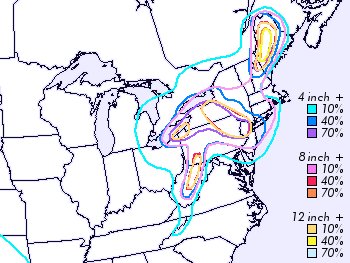 If those temperatures don't get above freezing, Friday could be interesting.
UPDATE
(Saturday 100227 18:25, links via
IP
):
Associated Press:
More than a million in the dark on East Coast
Friday's storm made February the snowiest month ever for New Brunswick, N.J.; it has gotten 37 inches so far. This had already been the snowiest winter for Philadelphia and Atlantic City, N.J., before the latest storm dropped another 4 to 5 inches by midmorning Friday.
The Weather Channel's
James Wilson
:
In New York City at Central Park, there was 20.9 inches reported with this amazing storm. This was the 4th largest snowstorm in their long history that goes all the way back to 1869.
-----
[1] For the 24 hrs beginning at 7pm EST.

Posted by: Old Grouch in Dear Diary... at 00:04:44 GMT | No Comments | Add Comment
Post contains 425 words, total size 5 kb.
Comments are disabled. Post is locked.
70kb generated in CPU 0.08, elapsed 0.1599 seconds.
51 queries taking 0.1142 seconds, 207 records returned.
Powered by Minx 1.1.6c-pink.