Tuesday, 28 July 2009

Spreading the credit
I guess that it's a good thing that whenever I start to develop that know-it-all attitude I get a reminder that I'm not always up-to-date on the latest web fads. This particular one reached me late, with no information about its creator. Now that I know about it, I thought others might like to know, too.
In mid-May I received an e-mail (with the subject line: "FW: Cat Movie!!") with this animation attached: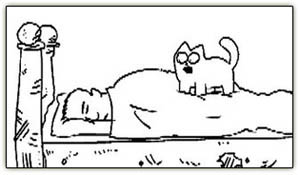 It was new to me, but, as it turned out, not new to the net.
[1]
(Sissy Willis had
written about it a year and one-half ago
.) I blame missing it on the lack of Flash on my system coupled with my creaky dialup, which has encouraged me to discourage my correspondents from sending me enormous files. But this time someone did, and fortunately for me someone else, somewhere along the line, had WMV-ed it, so I was finally able to view it.
Unfortunately, like a lot of stuff on the web, the version I got came with no information about it. Fortunately, a couple of days ago (in a
post about cats who control their owners
), Sissy linked to her earlier one. So, off I went to find out more.
The cat is called (simply enough) "Simon's Cat," and his perpetrator is animator Simon Tofield, who is associated with
Tandem Films, London
[site requires Flash, unfortunately]. This particular film,
Cat Man Do,
is the first of (so far) four short Simon's Cat animations, all of which can be found at the not-so-much-Flash official Simon's Cat site
http://www.simonscat.com/
.
There's also a book, which is due out in October.
So, now you know.
-----
[1]
If it should happen that you are one of the five people on the net who have managed
not
to see this yet... well, go look (and then come back)!
Posted by: Old Grouch in Linkage at 15:28:10 GMT | No Comments | Add Comment
Post contains 305 words, total size 3 kb.
Comments are disabled. Post is locked.
67kb generated in CPU 0.05, elapsed 0.2032 seconds.
51 queries taking 0.1706 seconds, 207 records returned.
Powered by Minx 1.1.6c-pink.