Monday, 30 November 2009
Who are you?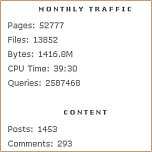 If you scroll way down the sidebar... no, keep scrolling... there!... you'll find some Monthly Traffic stats that
our host
kindly makes available to
us Mee-Nuvians
.
As the goings-on on this page have always been primarily for my own amusement (besides being a device for keeping the old blood pressure under control), I've never indulged in any of the fancy traffic analysis tools that the web makes available. The idea of doing so seemed to present a risk taking things entirely too seriously
[1]
; not to mention offering the disturbing potential to
discover things
that might be better
left undiscovered
[2]
.
Still, the reported 52,000+ pages served over the last 30 days is a bit of an eyebrow-raiser.
Who
are
all those

people?
For a long time that monthly number has hovered around 30,000... say 1,000/day. And I know from looking at other sites' information that one-half to two-thirds of that is most likely search engine spiders, botnets, spammers, and other miscellaneous automated rabble. Deduct a reasonable amount (say 50%) of the remainder to account for obsessive refreshing of the main page by the author, and that still leaves several hundred real-live viewers who drop by on any given day. Who appear to be a taciturn bunch, given that in just over 2½ years they have made just under 300 comments (by probably 30 unique commenters).
So for these last hours of November, I'm gonna call "
ollie ollie oxen free
," and encourage you hitherto silent ones to test Mee-nu's comment functionality. Tell a bit about yourself, or just say, "hello." No registration or personal info required, just click the "Add Comment" link in the footer below and make yourself known, if only for today.
(But if you're peddling handbags, athletic shoes, or replica watches... forget it.)
-----
Posted by: Old Grouch in Meta at 18:50:04 GMT | Comments (2) | Add Comment
Post contains 333 words, total size 4 kb.
1
I'm a long-time shooter, part-time certified NRA and CCW instructor, who left a job of 21 years in August, due to health-related issues. (I had been a credit card fraud investigator).
Been thru alot during the past few years, and I am considering starting a blog of my own.
Thanks for being out there...
gfa
Posted by: George at 12/01/09 02:55:34 (FYIs/)
2
In days of old, I had about 700 visitors a day; nowadays I have about 450 visitors a day and about 1000 taking the feed, though only 200 of them have bothered to set up formal subscriptions, to the extent that anything in RSS is "formal."
As you've seen, though, I have no trouble finding ten or twelve ridiculous search strings each and every week.
Posted by: CGHill at 12/02/09 02:21:53 (YhVR+)
Comments are disabled. Post is locked.
69kb generated in CPU 0.03, elapsed 0.1173 seconds.
53 queries taking 0.0991 seconds, 210 records returned.
Powered by Minx 1.1.6c-pink.