Tuesday, 09 September 2008

Four years ago today
On the evening of Wednesday, September 8, 2004, the CBS News program "60 Minutes II" ran a story "New Questions on Bush Guard Duty." The story was built around several documents that purported to show preferential treatment for George W. Bush by the Texas National Guard during his Vietnam-era service, and timed to appear simultaneously with a similar story in the
Boston Globe
. If true, the report would have been tremendously damaging to Bush, and could easily have affected the outcome of the election, less than one month away.
Even before the program had finished, sceptical viewers were posting suspicions that the documents weren't all they seemed; that, in fact, they were forgeries.
To:

Howlin



WE NEED TO SEE THOSE MEMOS AGAIN!

They are not in the style that we used when I came in to the USAF. They looked like the style and format we started using about 12 years ago (1992). Our signature blocks were left justified, now they are rigth of center...like the ones they just showed.

Can we get a copy of those memos?

107

posted on

Wednesday, September 08, 2004 8:19:00 PM




by TankerKC (R.I.P. Spc Trevor A. Win'E American Hero)
and within hours...
To:

Howlin



Howlin, every single one of these memos to file is in a proportionally spaced font, probably Palatino or Times New Roman.

In 1972 people used typewriters for this sort of thing, and typewriters used monospaced fonts.

The use of proportionally spaced fonts did not come into common use for office memos until the introduction of laser printers, word processing software, and personal computers. They were not widespread until the mid to late 90's. Before then, you needed typesetting equipment, and that wasn't used for personal memos to file. Even the Wang systems that were dominant in the mid 80's used monospaced fonts.

I am saying these documents are forgeries, run through a copier for 15 generations to make them look old.

This should be pursued aggressively.

47

posted on

Wednesday, September 08, 2004 11:59:43 PM




by Buckhead
(The post numbers in the footers are direct links to these Free Republic posts.)
By the next morning, the controversy was all over the web, and for the next week or so, bloggers and their commenters did the research that the MSM should have done. What had begun as a classic case of "gotcha" journalism quickly turned in to an exploration of reporting standards and media ethics. By the time the dust had settled, the story had been demolished, the documents found to be phony, CBS News and its anchor Dan Rather were in disgrace, the mainstream press embarrassed, and the pajama-wearing bloggers triumphant. And one month later, Bush won the election.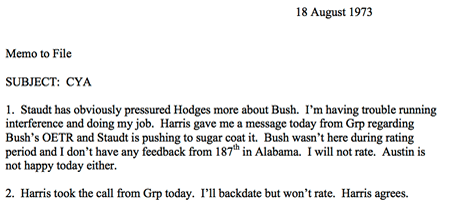 Charles Johnson's famous animated overlay superimposed an "original 1973" memo
with his re-created Microsoft Word version. Found
here
.
The neat thing is, most of those web posts and comments are still around! Today you can start at the beginning and follow the whole controversy, as it unfolded.
Bill at INDCJournal got things rolling with:
Power Line's coverage starts here:
And: Little Green Footballs:
CBS Killian Document Index
Enjoy!
Previously:
Posted by: Old Grouch in The Press at 17:35:03 GMT | Comments (1) | Add Comment
Post contains 553 words, total size 6 kb.
1
Not long ago I saw the producer, Mary Mapes, interviewed on television by Howard Kurtz. She was still in complete denial about the memos, maintaining that they were genuine. Kurtz was very gentle with her, almost treating her as if she was recovering from an illness, but he told her that the memos had been proven to be forgeries. She still maintained that they were genuine. Recently I read a quote from Rather, too. He also still maintains that the memos were genuine. Sad, really.
Posted by: Turk Turon at 09/09/08 18:54:47 (blNMI)
Comments are disabled. Post is locked.
71kb generated in CPU 0.02, elapsed 0.1283 seconds.
53 queries taking 0.1115 seconds, 209 records returned.
Powered by Minx 1.1.6c-pink.